Sleep Disorder Breathing and Sleep Apnea
---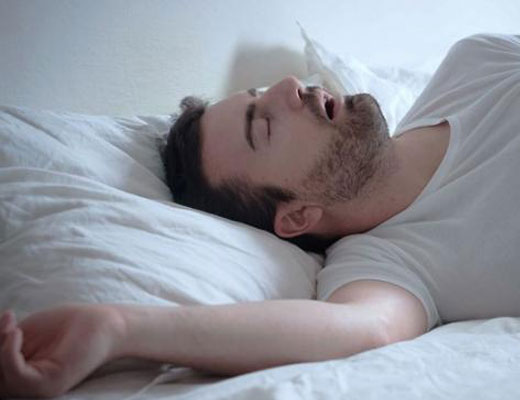 Sleep apnea can be a troubling problem. Many people treat their sleep apnea and other sleeping disorder breathing problems with a CPAP machine. However, for some people, using a CPAP machine is not a viable option. If you suffer from sleep apnea and similar disorders and are unable to use a CPAP machine, your dentist in Westlake, OH can help. At Walter R. Below DMD, we offer safe sleep apnea treatment to patients in Westlake, OH.
What Does Sleep Disorder Have to Do With Your Dentist?
Obstructive sleep apnea is often discovered by the dentist first. Dental professionals also help patients obtain a customized oral appliance to reduce symptoms. These oral appliances are an alternative device for patients who have a hard time tolerating CPAP devices. At Walter R. Below, we create oral appliances for patients suffering from obstructive sleep apnea.
How Your Dentist Can Treat Sleep Disorder
Patients at Walter R. Below are prescribed oral appliances that are easy to wear, convenient and highly portable. They work quietly and are easy to bring when traveling.
Oral Appliances
Oral appliances work by supporting the jaw and thus keeping the airway open while sleeping. Oral appliance therapy can stop the symptoms of obstructive sleep apnea, allowing patients to get better rest and leaving them more ready to face the day. Oral appliances are not mean to replace CPAP therapy, and patients who suffer from sleep apnea should first work with their physician to get the right type of treatment for their condition.
Frequently Asked Questions About Oral Appliances
My spouse says I snore. Do I have sleep apnea?
Snoring is a common sign of sleep apnea. However, it's important to get evaluated by a physician to be diagnosed properly. Your physician can help you determine what is causing your snoring, and what type of treatment is best for your condition.
Are oral appliances safe?
Oral appliances are safe to use when the patient follows all recommendations from their dentist and physician. If you suffer from sleep apnea, it's important to work with a skilled dental professional to get the right type of oral appliance for your needs.
Can any dentist provide sleep apnea treatment with an oral appliance?
Not every dentist is trained and able to determine what type of oral appliance to prescribe, and not every dentist can make an oral appliance properly. At Walter R. Below, we're fully trained to help our patients get the right type of oral appliances for their condition, to help our patients sleep safely. Come to us for oral appliance therapy in Westlake, OH.
Are oral appliances comfortable?
Oral appliances are made from a lightweight material that many patients find to be comfortable. If your oral appliance is not comfortable, talk to your dentist to get the issue resolved.
Symptoms of Sleep Apnea
Below are some of the signs that you need sleep apnea treatment in Westlake, OH.
Loud snoring

Gasping for air while sleeping

Stop breathing while sleeping

Headaches in the morning

Dry mouth upon waking

Difficulty staying asleep

Difficulty focusing

Irritability

Headache in the morning
Contact Your Dentist in Westlake OH
Do you need treatment for sleep apnea? Contact your dentist at Walter R. Below DMD to make an appointment. We can help.