Pediatric Dentistry
---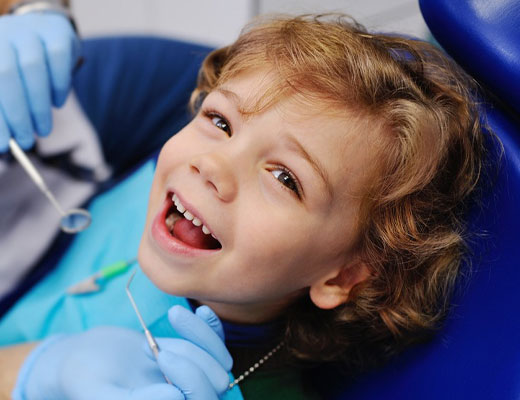 Children need to see the dentist, just like adults. However, children have different dental needs than many adults. In addition, children face dental problems that can be very different from adult dental problems. Taking your child to a pediatric dentist in Westlake OH can help ensure that your child's dental needs are met when they get their teeth cleaned and examined.
At Walter R. Below DMD, we offer pediatric dentistry services to the young dental patients of Westlake. We provide a safe, effective dental practice where children can feel comfortable coming for dental examination.
Benefits of Pediatric Dentistry 
There are many reasons to take your child to an experienced pediatric dentist.
Understanding and compassion. Pediatric dentists know kids and what they need. Children aren't like adults – they have specific needs of their own, as patients. They need special tools sized for their mouths, and they need their dentist to talk to them on their level, so they can feel comfortable and safe. When you take your child to a pediatric dentist, you can expect the dentist to have strategies for working with children, to ensure that their patients are comfortable in the dentist office.
Knowledge of dental conditions specific to children. Pediatric patients get a lot of cavities, often struggle with crooked or crowded teeth, and sometimes have tooth aches because of their cavities. Taking your child to a pediatric dentist, they'll know which problems to watch for, and strategies parents can use to prevent these problems at home.
Accommodations for children. Children need special dental tools and special accommodations in the dentist office to feel comfortable. Pediatric dentists have these tools readily available, and know what to keep on hand to ensure their pediatric patients will feel safe and happy in their office.
What to Expect from Your Child's First Dental Appointments
When you bring your child for their first dental examination in Westlake OH, you can expect the pediatric dentist to look inside your child's mouth, check for abnormalities or areas of concern, and ask you some questions about your child's dental health. If your child is older, they may get a dental cleaning and a full examination. If your child is very young, the appointment will be short and sweet. The appointment will likely end with the dentist giving you some advice on how to care for your child's teeth at home.
When to Bring Your Child to the Dentist
Bring your child to the dentist for the first time when the first tooth erupts from the gums, or when they turn one year old, whichever comes first. You should also bring your child to the dentist when they're showing symptoms of a dental problem (such as a toothache). After the first appointment, the dentist will tell you when to bring your child back for their next appointment. As they get older, the dentist will tell you to start bringing your child in for regular six month appointments.
Contact Walter R. Below DMD Pediatric Dentistry
When was the last time you brought your child to at the pediatric dentist? If it's time to bring your child in, contact Walter R. Below DMD for pediatric dentistry services in Westlake, OH. Call today.